As a small school with a tight community, the onus for looking after the wellbeing of the children is on all staff not just their form teacher. Staff are quick to smile and chat and follow up any issues no matter how small.
Our Pastoral Head, Mrs Vanessa Sharp, oversees this important area of school life, hosting a meeting every week where all concerns from any pupil are raised so that all staff are fully aware of any wellbeing issues and she also meets with the children in small groups or individually at least once every half term or, if and when, the pupil needs her.
Misunderstandings inevitably occur between children and PHSE lessons allow teachers flexibility to discuss issues that might arise.
Physical health as well as mental wellbeing is certainly a high priority at St Joseph's In The Park. The school is set in beautiful countryside and the children benefit from the parkland setting and Forest School. The teachers make the most of teaching outdoors wherever possible and incorporate mindfulness sessions in lessons when appropriate. In the summer the classes all make use of the outdoor swimming pool and get out in the fresh air whenever they can. The Headmaster places great emphasis on the importance of sports and physical fitness so all children take part in football, hockey, cricket, crossfit, swimming and the girls enjoy netball and dance. The whole school enjoys the occasional Wake Up and Shake Up morning fitness sessions or a run around the field.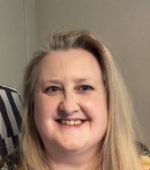 KATRINA GIBBONS-MARSHALL [MA/PGD L7, MBACP]
Katrina, the school counsellor can offer support for children of all ages and at any stage of their school life. She can also offer support to parents as and when they need help.
She can be contacted via Rachael Gaffney, the Headmaster's PA on
01992 513810
or
[email protected]
Helping Pupils to Stay Positive in the Pandemic
The staff at St Joseph's In The Park are thinking creatively and doing all they can to help pupils remain positive and mentally fit through the Covid-19 pandemic.
The Benefits of Outdoor Learning
Learning in the great outdoors reaps huge rewards for children, writes John Mould, the new Forest School Practitioner at St Joseph's In the Park, Hertingfordbury
For Useful Links Regarding Wellness
New Horizon have created Guided Meditations and Sleep Stories for both Adults and Kids which are being used by Parents, Teachers and Therapists worldwide. They would love you to join them on the journey.
Check out their YouTube page